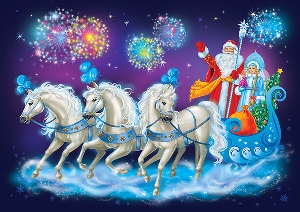 18 Nov is considered to be the birthday of the winter magician. In Veliky Ustyug at that time the winter cold is coming and at the town central square the first Christmas tree of Russia is lit up.
Guests and characters of fairy tales arrive to the event from all over Russia and other countries, they come to participate in the programme "The territory of good", theatrical performances, fairy tale competitions, game activities.
After the celebration in Veliky Ustyug Father Frost will hit the road on the journey across the country, in each city of his journey, together with children, he will light up the Christmas trees.